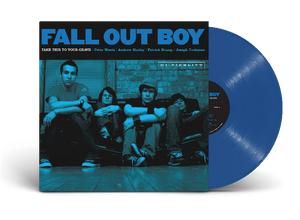 Fall Out Boy - Take This To The Grave (20th Anniversary Coloured Vinyl Edition)
€3399

€33.99
Tax included.
Shipping
calculated at checkout.
---
---
Product Description

Shipping

Refunds & Returns
Pre-order - Released November 24th 2023
This year marks 20 years since the release of Fall Out Boy's groundbreaking debut album Take This to Your Grave. Featuring the cult-classic singles "Grand Theft Autumn/Where Is Your Boy," "Saturday," and "Dead on Arrival" the album was a minor success in 2003, however it is revered as the vital blueprint for 2000s pop-punk, with Alternative Press calling it a "subcultural touchstone" and a "magical, transcendent, and deceptively smart pop-punk masterpiece that ushered in a vibrant scene resurgence with a potent combination of charisma, new media marketing and hardcore-punk urgency". Take This to Your Grave is often regarded as one of the greatest pop-punk albums of all time. In 2017, Rolling Stone placed Take This to Your Grave at number 5 on their list of the "50 Greatest Pop-Punk Albums".

Tracklisting

Side A:
1. Tell That Mick He Just Made My List of Things to Do Today 3:30
2. Dead on Arrival 3:14
3. Grand Theft Autumn / Where Is Your Boy 3:11
4. Saturday 3:36
5. Homesick at Space Camp 3:08
6. Sending Postcards from a Plane Crash (Wish You Were Here) 2:56
7. Chicago Is so Two Years Ago 3:19

Side B:
1. The Pros and Cons of Breathing 3:21
2. Grenade Jumper 2:58
3. Calm Before the Storm 4:27
4. Reinventing the Wheel to Run Myself Over 2:21
5. The Patron Saint of Liars and Fakes 3:19
6. Untitled 1 (Colorado Song) (unfinished demo) 3:28
7. Untitled 2 (Jakus Song) (unfinished demo) 3:15

Delivery:
Please refer to the information provided on individual product pages for delivery and shipping time frames for your region.
When the order has been dispatched from The Warner Music Shop, you will receive a dispatch notification email. Please refer to Transit times below for expected delivery.
Transit Times:
Orders are dispatched via An Post (Ireland's Postal Service) or Courier. If applicable, tracking details will be forwarded to you in your order dispatch notification email.
At Seasonal trading times i.e Black Friday & Christmas, some delays may occur, please allow an extra few days for delivery.
Express Shipping - Ireland Only (2 Business Days)
Ireland Standard (2 - 5 days)
Shipping Charges:
Rep of. Ireland - Delivery (with tracking) charges are from €4.50 - €29.99 depending on the size and/or quantity of items ordered. *
Pre-order Items:
When an item is pre-ordered, it is held until the official release date (release date details can be found on individual product pages). If other items which are not pre-ordered are on the same order, the entire order will be held and dispatched upon release of the pre-ordered item(s).
*Prices are subject to change.
Refunds & Returns:
The Warner Music Shop complies with EU distance selling rules.
If you have changed your mind with your purchased product, you may return the goods to The Warner Music Shop within 14 days of receipt.
Item(s) must be in the same unopened condition that they were received in.
Customer is responsible for the return postage cost of the goods. It is advisable that if the customer deems the goods of significant value that they use a tracked package option, as The Warner Music Shop will not be liable for any non-receipt of goods that cannot be proved with a POD (Proof of Delivery) signature.
Upon return of the goods, they will be inspected, and approved returns will be refunded for the item cost only (less shipping charges)
Returned item(s) should be returned in the secure original postage packaging with delivery documents so The Warner Music Shop can identify and refund your order promptly.
Return to Address:
The Warner Music Shop Returns Dept.
Unit B7 - B9 Calmount Business Park,
Calmount Avenue,
Walkinstown,
Dublin 12,
Rep. of Ireland
D12 V674
---
We Also Recommend