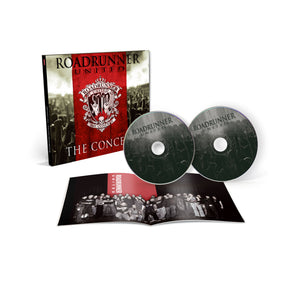 Roadrunner United The Concert (Live at the Nokia Theatre, New York, NY, 12/15/2005) 2CD
€1599

€15.99
Tax included.
Shipping
calculated at checkout.
---
---
Product Description

Shipping

Refunds & Returns
ROADRUNNER UNITED
The Concert (Live at the Nokia Theatre, New York, NY, 12/15/2005)
Pre-order date:  October 11, 2022
Release date: March 10, 2023

Product Description:

We have opened the vault to bring to you for the first time on a 2CD set Roadrunner United 'The Concert (Live at the Nokia Theatre, New York, NY, 12/15/2005)', featuring members of Slipknot, Anthrax, Trivium, Machine Head, Fear Factory, Sepultura & more. Roadrunner United was a project organized by the heavy metal record label Roadrunner Records to celebrate its 25th anniversary. On December 15th, 2005, in New York City, Roadrunner Records produced the Metal Concert to end all Metal Concerts: 39 musicians, representing 25 different Roadrunner bands, performed 25 songs from 19 different bands' repertoire.  This unique and unprecedented aggregation of musicians was no jam session.  Each song was studiously rehearsed and arranged, coming together with exuberant perfection, to produce a concert that can only be called "Legend."

Conceived as a follow-up to the Roadrunner United All-Star recording sessions, the label recruited the core team of musicians (Dino Cazares, Adam Duce, Paul Gray, Joey Jordison, Andreas Kisser and Roy Mayorga) as the backbone of the performance.  Sure enough, as they fine-tuned the songs and rehearsed them tirelessly, dozens of other musicians came on board.

This 2CD set represents the gathering of a community of musicians that spans the heavy metal history of the first 25 years of Roadrunner Records: from King Diamond to Slipknot and beyond.  Those who were lucky enough to be there experienced a night they will never forget. For the first time as a live concert album, this 2CD set is a chance to relive that special night again and again.




Delivery:
Please refer to the information provided on individual product pages for delivery and shipping time frames for your region.
When the order has been dispatched from The Warner Music Shop, you will receive a dispatch notification email. Please refer to Transit times below for expected delivery.
Transit Times:
Orders are dispatched via An Post (Ireland's Postal Service) or Courier. If applicable, tracking details will be forwarded to you in your order dispatch notification email.
At Seasonal trading times i.e Black Friday & Christmas, some delays may occur, please allow an extra few days for delivery.
Express Shipping - Ireland Only (2 Business Days)
Ireland Standard (2 - 5 days)
Shipping Charges:
Rep of. Ireland - Delivery (with tracking) charges are from €4.50 - €29.99 depending on the size and/or quantity of items ordered. *
Pre-order Items:
When an item is pre-ordered, it is held until the official release date (release date details can be found on individual product pages). If other items which are not pre-ordered are on the same order, the entire order will be held and dispatched upon release of the pre-ordered item(s).
*Prices are subject to change.
Refunds & Returns:
The Warner Music Shop complies with EU distance selling rules.
If you have changed your mind with your purchased product, you may return the goods to The Warner Music Shop within 14 days of receipt.
Item(s) must be in the same unopened condition that they were received in.
Customer is responsible for the return postage cost of the goods. It is advisable that if the customer deems the goods of significant value that they use a tracked package option, as The Warner Music Shop will not be liable for any non-receipt of goods that cannot be proved with a POD (Proof of Delivery) signature.
Upon return of the goods, they will be inspected, and approved returns will be refunded for the item cost only (less shipping charges)
Returned item(s) should be returned in the secure original postage packaging with delivery documents so The Warner Music Shop can identify and refund your order promptly.
Return to Address:
The Warner Music Shop Returns Dept.
Unit B7 - B9 Calmount Business Park,
Calmount Avenue,
Walkinstown,
Dublin 12,
Rep. of Ireland
D12 V674