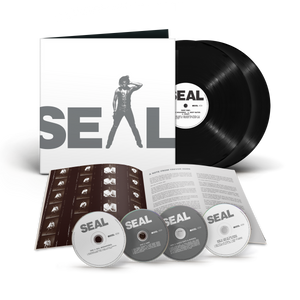 Seal - SEAL Deluxe Edition
€11299

€112.99
Tax included.
Shipping
calculated at checkout.
---
---
Product Description

Shipping

Refunds & Returns
4CD / 2LP (Black Vinyl) & Book - Limited Deluxe Edition Set housed in a Hardcover Book Casing. Remastered Audio plus Rare Recordings, Dance Remixes, and a previously unreleased concert Live at The Point, Dublin (December 16, 1991).
Side 4 of the 2LP has a custom etching. Vinyl not available separately.
The Grammy®-Winning Singer's Quintuple-Platinum 1991 self-titled debut gets the Deluxe treatment...

Seal took the world by storm in 1991 when "Crazy" – the lead single from his self-titled debut album – cracked the Top 10 in the U.S., U.K., and across Europe. In the singer-songwriter's native U.K., the album debuted at #1 and later won Best British Album at the Brit Awards. Three decades later, Seal's songs continue to resonate across multiple generations of music fans. The Recording Industry Association of America (RIAA) also recently announced that sales for Seal have reached five million copies, officially granting the album quintuple platinum status.

Seal's landmark debut will arrive as a 4-CD/2-LP deluxe edition on November 4, packaged in a 12"x12" hardcover book that includes rare photos and liner notes by prominent music scribe Jim Farber. 

SEAL: DELUXE EDITION boasts a disc of rarities featuring "premix" versions of six album tracks. These versions featured early mixes that were available briefly on early pressings before they were replaced by Horn's final mixes. The collection also showcases many of the incredible dance remixes created for album singles, including standouts like William Orbit's dub mix for "Killer" and the Giro E Giro Mix for "The Beginning."

The collection ends on a high note with a previously unreleased concert recorded at the Point Theatre in Dublin, Ireland, on December 16, 1991. Recorded as his fame was exploding, the show captures Seal channelling the audience's energy while working through every song from his debut, plus the B-side "A Minor Groove," a cover of "Hey Joe," and more.

Tracklist:

CD 1: Original album remastered
1. The Beginning
2. Deep Water
3. Crazy
4. Killer
5. Whirlpool
6. Future Love Paradise
7. Wild
8. Show Me
9. Violet

CD 2: Rare
1. Crazy – Acoustic/Instrumental
2. Crazy – Premix Version
3. Killer – Premix Version
4. Violet – Premix Version
5. Wild – Premix Version
6. Deep Water – Premix Version
7. Whirlpool – Premix Version
8. Future Love Paradise – Reprise
9. A Minor Groove
10. Sparkle – Extended Version
11. Deep Water – Acoustic

CD 3: Remixes
1. Killer – Single Edit
2. Killer – William Orbit Remix
3. Killer – William Orbit Dub
4. The Beginning – Single Remix
5. The Beginning – Giro E Giro Mix
6. The Beginning – Round the Underground Dub
7. The Beginning – Round the Underground Mix
8. The Beginning – Roundabout Mix
9. Crazy – Single Mix
10. Crazy – Acapella
11. Crazy – Do You Know the Way to L.A. Mix
12. Crazy – Chick On My Tip Mix
13. Krazy

CD 4: Live at The Point, Dublin (December 16, 1991)
1. Deep Water *
2. The Beginning *
3. Future Love Paradise *
4. Violet *
5. Show Me *
6. Hey Joe *
7. Killer *
8. Whirlpool *
9. A Minor Groove *
10. Crazy *
11. Wild *
12. Hide *

* previously unreleased

LP 1 - Side 1:
1. The Beginning
2. Deep Water
3. Crazy

LP 1 - Side 2:
1. Killer
2. Whirlpool
3. Future Love Paradise

LP 2 - Side 3:
1. Wild
2. Show Me
3. Violet

LP 2 - Side 4
Blank side / Etching
Delivery:
Please refer to the information provided on individual product pages for delivery and shipping time frames for your region.
When the order has been dispatched from The Warner Music Shop, you will receive a dispatch notification email. Please refer to Transit times below for expected delivery.
Transit Times:
Orders are dispatched via An Post (Ireland's Postal Service) or Courier. If applicable, tracking details will be forwarded to you in your order dispatch notification email.
At Seasonal trading times i.e Black Friday & Christmas, some delays may occur, please allow an extra few days for delivery.
Express Shipping - Ireland Only (2 Business Days)
Ireland Standard (2 - 5 days)
Shipping Charges:
Rep of. Ireland - Delivery (with tracking) charges are from €4.50 - €29.99 depending on the size and/or quantity of items ordered. *
Pre-order Items:
When an item is pre-ordered, it is held until the official release date (release date details can be found on individual product pages). If other items which are not pre-ordered are on the same order, the entire order will be held and dispatched upon release of the pre-ordered item(s).
*Prices are subject to change.
Refunds & Returns:
The Warner Music Shop complies with EU distance selling rules.
If you have changed your mind with your purchased product, you may return the goods to The Warner Music Shop within 14 days of receipt.
Item(s) must be in the same unopened condition that they were received in.
Customer is responsible for the return postage cost of the goods. It is advisable that if the customer deems the goods of significant value that they use a tracked package option, as The Warner Music Shop will not be liable for any non-receipt of goods that cannot be proved with a POD (Proof of Delivery) signature.
Upon return of the goods, they will be inspected, and approved returns will be refunded for the item cost only (less shipping charges)
Returned item(s) should be returned in the secure original postage packaging with delivery documents so The Warner Music Shop can identify and refund your order promptly.
Return to Address:
The Warner Music Shop Returns Dept.
Unit B7 - B9 Calmount Business Park,
Calmount Avenue,
Walkinstown,
Dublin 12,
Rep. of Ireland
D12 V674
---
We Also Recommend